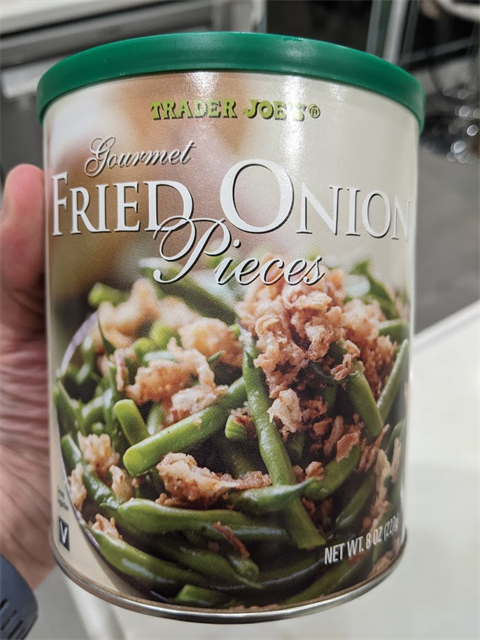 1 1/2 tbsp butter
1 1/2 tbsp olive oil
1 bag Trader Joe's sliced crimini mushrooms (~16 oz mushrooms)
1/2 medium to large onion, sliced
1/2 c leek, chopped (white and light green parts only)
1 tsp crushed garlic (~1 clove)
1/2 tsp black pepper
2 bags Trader Joe's frozen green beans (or 4 cans green beans, drained)
2 containers Trader Joe's Cream of Portobello Mushroom Soup
1/2 c water
1 1/2 c Swiss cheese, shredded
1 can Trader Joe's Gourmet Fried Onion Pieces
Preheat oven to 375 degrees and grease a 13×9″ casserole dish. If using frozen green beans, sort through beans and break large ones into 1″ pieces. Heat olive oil and butter in a large heavy skillet; add mushrooms and saute until soft and lightly browned. Add onions, leeks and garlic and continue to saute until heated through, about 3 minutes. Add green beans and saute until heated through, about 5 minutes. Add soup, water, and pepper to skillet and mix until thoroughly heated. Remove from heat and pour hot mixture into casserole dish. Top with cheese and fried onion pieces. Place in oven and bake 15-20 minutes or until cheese becomes warm and bubbly. Remove from oven and allow to sit 5 minutes before serving. If reheating, cover dish with foil to prevent onions from burning.
Note: Substitute Cream of Broccoli instead of Cream of Mushroom. Add cheese to top.