Ghormeh Sabzi is an incredibly delicious Persian stew that is served over steamed basmati rice. It has tender cooked meat in intensely fragrant, rich and lemon herb gravy along with kidney Popularly known as the national dish of Iran, this stew is packed with protein and fiber.
Ghormeh Sabzi, has garnered the reputation of being one of the most beloved Persian stews. Call it the "King of Persian Stews" or the "National dish" – no Persian restaurant menu or buffet is ever complete without this well deserved star item.
The three key flavor elements for ghormeh sabzi are: roasting of herbs, fenugreek, dried limes. In Persian, ghormeh means "fried" and sabzi means "herbs".
MEAT:

Ghormeh Sabzi is traditionally prepared with lamb, beef or veal. I like to cook this Persian herb stew with bone in meat as it is more flavorful.
Variation: Try this addictive stew with chicken or fish adjusting cooking time and water. Add chicken in the last hour and fish in the last 30 minutes. Lower amount of water to half.
Check out my tips below for making it vegetarian or vegan.

HERBS:

It requires parsley, cilantro, fenugreek and green onions. That is LOT of herbs. Check below how to use dried herbs for this stew.
A key step for making Ghormeh sabzi is the slow roasting of herbs, that results in a magical aroma that will lovingly wrap you. An essential herb is the Fenugreek, and like most recipes that use this herb, the dish tastes even better the next day.
In Persian, Fenugreek is known as Shanbalileh. This herb is widely used in Indian cooking as well and available as fresh, frozen or dried in Indian stores. Check in Persian or middle eastern stores too.

BEANS:

It is most common to use the kidney beans. I prefer to use the dried beans soaked overnight, but you can try canned too.
Less commonly used beans for ghormeh sabzi are pinto beans and black eyed peas.
I personally love the red beans with the green herb stew. You eat with your eyes too 🙂

DRIED LIMES:

This is so important for the taste of ghormeh sabzi. You can find these at Persian or middle eastern stores or online. I have even been able to dry lime or lemon slices in my dehydrator. But go for dried limes as they are fairly easy to get.
Dried limes are pierced and added to the stew, gently releasing the juices and aroma while simmering. Persian dried lime powder or fresh lime/lemon juice may also be added.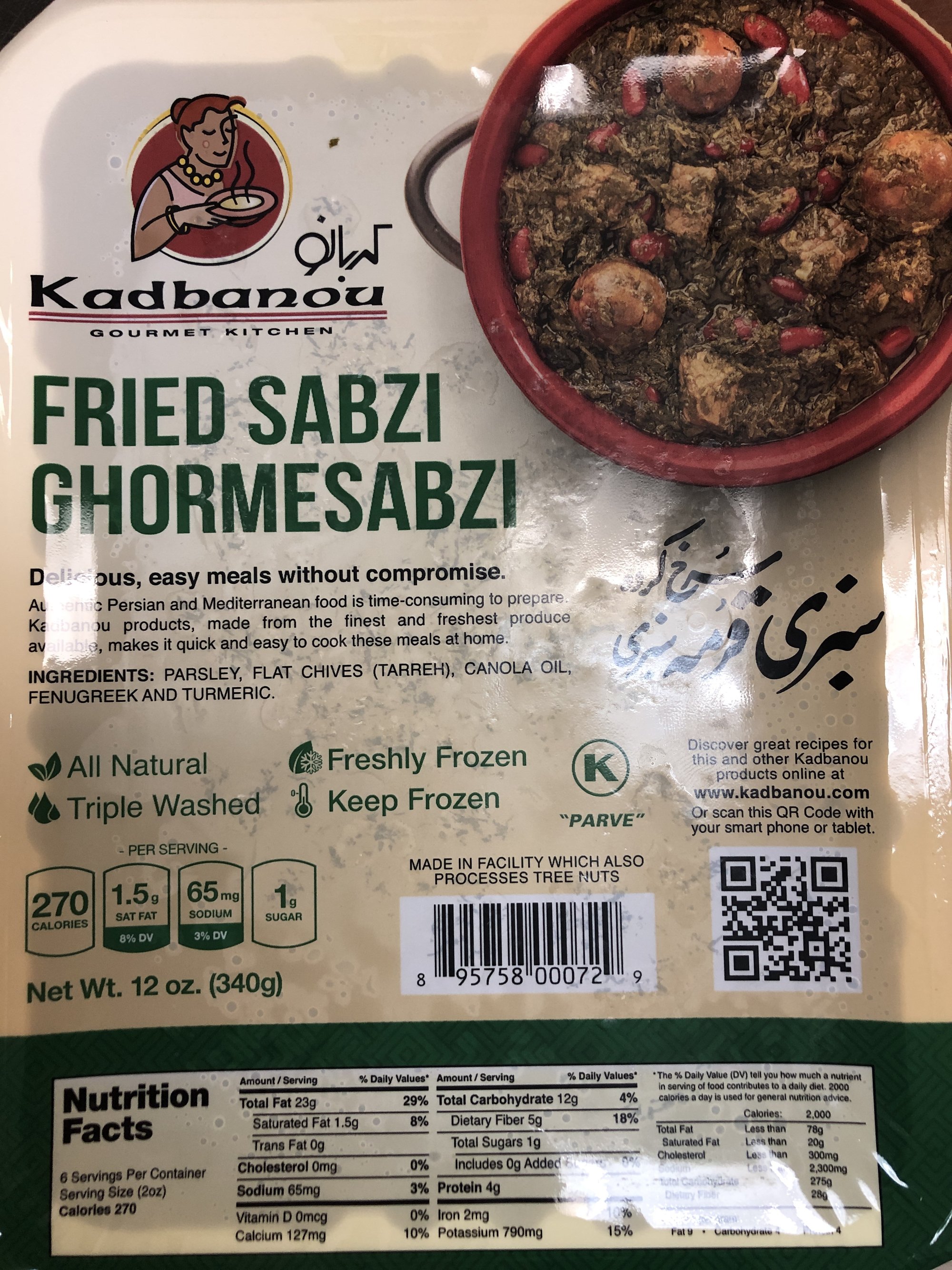 Sources:
https://www.thedeliciouscrescent.com/persian-fresh-herb-stew-with-meat-and-kidney-beans/