Spring Rolls 春卷 (chūn juǎn)
Dumplings 饺子 (jiǎo zi)
Noodles 长面 (cháng miàn)
Steamed Fish 蒸鱼 (zhēng yú)
Steamed Chicken 蒸鸡 (zhēng jī)
Nian Gao 年糕 (nián gāo)
Hot Pot 火锅 (huǒ guō)
1. Fish — an Increase in Prosperity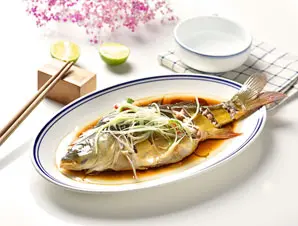 Steam fish
In Chinese, "fish" (鱼 Yú /yoo/) sounds like 'surplus'. Fish is a traditional Chinese New Year dish on the Chinese New Year dinner menu. Chinese people always like to have a surplus at the end of the year, because they think if they have managed to save something at the end of the year, then they can make more in the next year.
年年有余 (Niánnián yǒu yú /nyen-nyen yo yoo/): May you always have more than you need!
2. Chinese Dumplings — Wealth
With a history of more than 1,800 years, dumpling (饺子 Jiǎozi /jyaoww-dzrr/) is a classic lucky food for Lunar New Year, and a traditional dish eaten on Chinese New Year's Eve, widely popular in China, especially in North China.
3. Spring Rolls — Wealth
Spring rolls (春卷 Chūnjuǎn /chwnn- jwen/) get their name because they are traditionally eaten during the Spring Festival.
4. Glutinous Rice Cake — a Higher Income or Position
Glutinous rice cake (年糕 Niángāo /nyen-gaoww/) is a lucky food eaten on Chinese New Year's Eve. In Chinese, glutinous rice cake sounds like it means "getting higher year-on- by year". In Chinese people's minds, this means the higher you are the more prosperous your business is a general improvement in life.
5. Sweet Rice Balls — Family Togetherness
Sweet rice ball (汤圆 Tāngyuán /tung-ywen/) is the main food for China's Lantern Festival, however, in south China, people eat them throughout the Spring Festival. The pronunciation and round shape of tangyuan are associated with reunion and being together.
6. Longevity Noodles — Happiness and Longevity
Longevity noodles (长寿面 Chángshòu Miàn /chung-show myen/) unsurprisingly symbolize a wish for longevity. Their length and unsevered preparation are also symbolic of the eater's life.
7. Good Fortune Fruit — Fullness and Wealth
Certain fruits are eaten during the Chinese New Year period, such as tangerines and oranges, and pomeloes. They are selected as they are particularly round and "golden" in color, symbolizing fullness and wealth, but more obviously for the lucky sound they bring when spoken.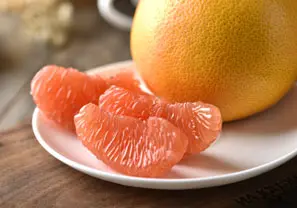 Chinese New Year fruits
Eating and displaying tangerines and oranges is believed to bring good luck and fortune due to their pronunciation, and even writing. The Chinese for orange (and tangerine) is 橙 (chéng /chnng/), which sounds the same as the Chinese for 'success' (成). One of the ways of writing tangerine (桔 jú /jyoo/) contains the Chinese character for luck (吉 jí /jee/).
Eating pomeloes/shaddocks is thought to bring continuous prosperity. The more you eat, the more wealth it will bring, as the traditional saying goes. The Chinese for pomelo (柚 yòu /yo/) sounds like 'to have' (有 yǒu), except for the tone, and exactly like 'again' (又 yòu).
Sources:
https://chinesenewyear.net/food/
https://www.chinahighlights.com/travelguide/chinese-food/chinese-new-year-food.htm