A proposed change to a 1,800-unit Mira Mesa housing project would remove industry and replace it with a 20-acre park.By ROGER SHOWLEYOCT. 1, 20176 AM
A 412-acre rock quarry in Mira Mesa, approved for reclamation in 1994, is being replanned to include a 25-acre community park instead of industrial development.
Lehigh Hanson, a subsidiary of Dallas-based Heidelberg Cement Group, expects to submit a new master plan for what is called "3Roots San Diego" to the city next month. It would be located between Camino Santa Fe and Camino Ruiz, south of Mira Mesa Boulevard and straddling an extension of Carroll Canyon Road.
The change in plans was driven in part by the rise of the millennial generation and their impact on housing demand. Lehigh Hanson consultant Brian Myers said residents in their early- and mid-20s may prefer downtown, North Park, Uptown and other urban neighborhoods with lively bars and a hip vibe.
"But when they get into the early family-formation years and need a place to raise their family, this is an alternative to that urban environment, yet with the urban lifestyle amenities they've come to enjoy," Meyers said. "We like to refer to this community as the 'alt-Urban' plan."
The assumption is that many of those downtown dwellers already have to commute north to job centers in and around UC San Diego, Torrey Pines Mesa and Sorrento Mesa. If they lived at 3Roots, they'd be home already, a future promotion might say.
3Roots San Diego, is expected to complete the first homes by 2021 if current schedules hold. That's the same year that the San Diego Trolley's Blue Line is scheduled to open an extension from Old Town to UC San Diego and Westfield UTC and provide a mass transit alternative to travel north and south to those job centers.
Together with the neighboring Stone Creek project to the east due to start in 2030, the two developments could boost Mira Mesa's current population of 76,400 to nearly 95,000.
Since 1953, Carroll Canyon has been a prime source of aggregate, sand, gravel and clay for numerous construction projects.
"It was our flagship operation for many decades," said Marvin Howell, director of land use, planning and permits for Lehigh Hanson who worked for the previous mining owner, H.G. Fenton.
Active mining ceased in 2016 and site resembles a treeless moonscape, gouged out by earth movers and mining equipment to extract rock and gravel for countless building sites.
Howell said the site's red clay has been used for infield soil at many baseball fields. Concrete for freeways, hospitals, schools and other construction projects used aggregate from the Carroll Canyon mining pits.
"If we didn't have Carroll Canyon, it could get very expensive to ship stuff in from the outside," Howell said.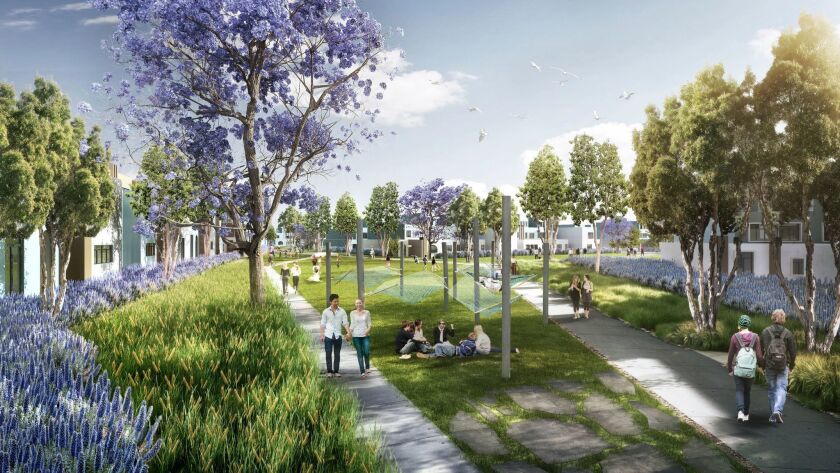 In the 1990s the first phase of the Fenton-Hanson quarry was converted to Fenton Technology Park, where 600,000 of the planned 900,000 square feet of office and industrial space have been completed so far. About 3,500 people work there with another 2,000 in future buildings, Howell said.
But as Lehigh Hanson got ready to implement their 1994 plan, officials decided to create a transit-oriented village as called for in the city's latest general land-use plan and climate action plan.
The original master plan called for 52 acres office and industrial uses, mostly south of Carroll Canyon Creek. The new plan proposes a 25-acre community park instead, not only because Mira Mesa needs it but Lehigh Hanson would have to deal only 20,000 additional vehicle trips, down from 30,000.
"The biggest opportunity we ran across was the need for a third community park," said Brian Myers, a Nuquest Ventures consultant helping Lehigh Hanson get the land entitled for redevelopment.
The park has yet to be designed but it is expected to include several baseball and soccer fields that would be lighted at night. The planning group would like the park to be built before housing goes in, but the timing has not yet been settled.
"It's funny — everybody likes parks," said Jeffry Stevens, chairman of the Mira Mesa Community Planning Group. "People will move to live near a park but if you try to build a park next to houses, homeowners always show up to protest — it never fails."
The Mira Mesa planning group and Planning Commission both endorsed the preparation of a new master plan earlier this year. The related environmental documents are expected to be ready next year and lead to City Council consideration in 2019.
"The response has been very good to it," Stevens said. "All the improvements are positive. There hasn't been much controversy."
At a community open house earlier this year to showcase the plans, residents and business owners generally liked what they saw. But they still had questions about the details.
For example, Vernell Fultz, 72, a 20-year resident wondered about traffic impacts. But she liked the idea new roadways could someday connect to a San Diego Trolley line that might be built along Carroll Canyon Road.
Eric Archer, 49, a resident for 25 years, wanted to know how buffer areas between 3Roots and existing neighborhoods would be managed to deal with possible brush fires.
Besides the park, the other major change from the 1994 plan would increase housing in the 40-acre village core at Camino Santa Fe and Carroll Canyon Road.
The original plan called for industrial, office and retail uses and 100 housing units. The new plan calls for 20,000 square feet of creative office, 120,000 square feet of retail and restaurants and 745 apartments, including 180 of low- and middle-income affordable units.
Lehigh Hanson planners hope that density would ensure success for a 1.5-acre transit center, where buses, shuttles and ride-sharing, bike and delivery services would be headquartered.
The new plan also includes extensive bike and walking trails, to make it easy to get to nearby jobs without a car. Carroll Canyon Road itself would be paved for 1.2 miles to complete a link to Camino Ruiz. Eventually, the road will connect Interstates 15 and 805 and help traffic congestion on Mira Mesa Boulevard and Miramar Road.
It's too early to say what the housing and commercial developments will look like, since the ultimate buildout will be the responsibility of development companies that Lehigh Hanson ultimately sells to.
But the housing breakdown would call for a mix of single-family attached and detached for-sale homes, apartments and condos in densities of eight to 65 units per acre, the top number proposed for the village core.
The name "3Roots" refers to connectivity via paths and roads, sound principles rooted in good planning and heritage and the legacy of the site and the people who will live there.
That theme carries over into the names for the different sections.
The civic core is called the "Root Collective." The community park is called "Seed Park." Canopy, Routes and Meadows are the three housing zones of varying type and density.
Meanwhile, planning continues on a much bigger development, Stone Creek, proposed by Vulcan Materials on 293 acres east of 3Roots. The flatter ground would accommodate up to 4,455 apartments and condos in three neighborhoods.
Stevens said that project is half what Vulcan originally proposed but is 13 years from a start date, based on the developer's latest thinking. The final phase wouldn't start until 2040, a Vulcan spokesman said.
Based on Mira Mesa housing counts and population, these two projects alone could boost Mira Mesa's population from the present 76,400 to nearly 95,000 over the next 25 years.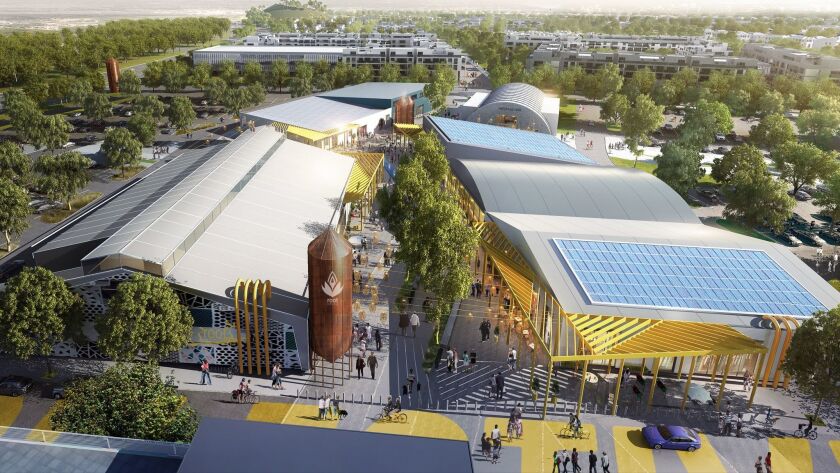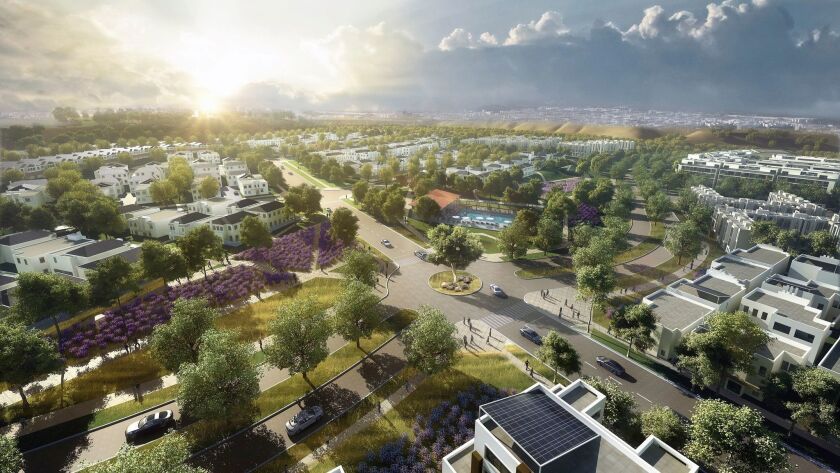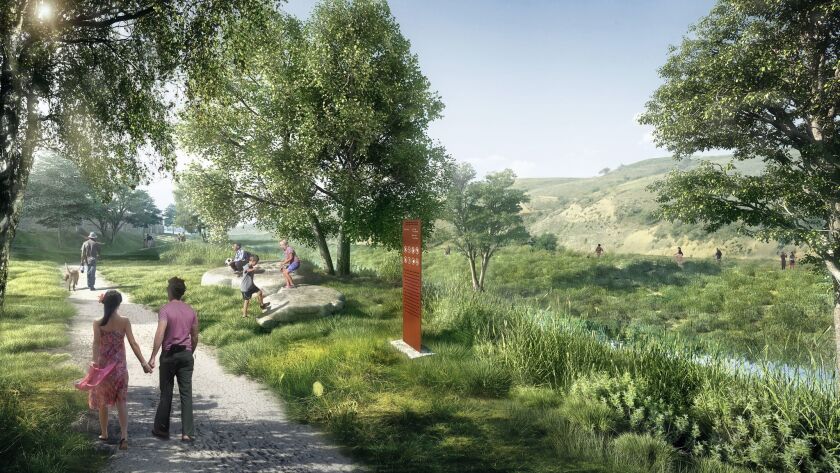 3Roots San Diego at a glance
Location: 412 acres east of Camino Santa Fe on both sides of Carroll Canyon Road
Housing: 1,800 units, including 195 single-family homes in the Meadows district at the south end; 520 units of small-lot houses in the Canopy district at the north end; the Routes district with 340 homes; and 745 apartments, condos and affordable units in the commercial core.
Commercial: The 40-acre "Roots Collective" hub at Camino Santa Fe and Carroll Canyon Road would contain 20,000 square feet of creative office space, 120,000 square feet of retail and restaurants and a 1.5-acre transit center.
Parks: The 44 acres of parks and trails would include a 25-acre community park with play fields south of Carroll Canyon Road and four neighborhood parks. An additional 205 acres would remain as open space and slopes and Carroll Canyon Creek would be restored and realigned.
Timeline: The developer plans to submit a project application in October with environmental review completed in 2018 and City Council consideration in 2019. The first homes could be completed by 2021 with buildout by 2025.
Sources: